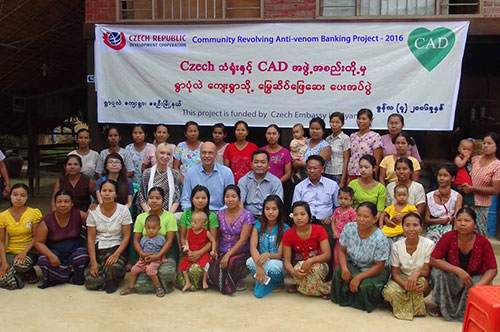 Revolving Anti-Venom Bank system:
Our Goal:
First Aid is available for all victims of snake-bike in remote areas.
Our Objectives:
1. Anti-venom vaccines are available in villages.
2. Snake-bitten victims are saved from death.
3. Cost for medical treatment of victims are reduced.
Our Revolving System:
Our system is community based revolving management. CAD bought 10 numbers of good quality vaccines and set up cooling storage system in villages. The bank is managed by village chosen committee. Those who are bitten by snake, can use the vaccines without any discrimination in race, religion. complexion and gender. The vaccine user must return back with one fold (he has to replace 2 bottles of vaccines if he used one bottle) within 2 weeks to 2 months with valid and good quality one (s).
Voice from villagers:
U Kyaw Hlaing (sitting photo) said," Up to my aged, I have poor knowledge and no experience about NGO like CAD that support CBOs to implement rural development activities. In previous time, the communities had being implemented village development activities by themselves. Although political party came to us and gave commitment to assist in implementation of rural development, it could not be reality. Now CAD provided anti-venoms banks for victims in Wathe village. Due to high cost and not availability of these in region, it was not affordable for us to get it when a person is bitten by snake. So we all communities are confident that we will not die even if snake bites us because anti-venom is available for everyone.
He said that seven years ago Daw Than Shin (aged 50) was bitten by poisonous snake and dead while she was cutting grass for cattle feeding and three years ago, Maung Hlaing Win Tun was also bitten by poisonous snake while he was busy in ploughing in the field. Although he was sent to Ye U hospital and Mandalay town hospitals, it was getting late and he was finally dead. Now we have already kept anti-venoms at recommended temperature of refrigerator supported by CAD and it gives all of us security and confidence in poisonous snake bite. Victims from Chaung Sone & nearby villages (Shwehinthar, Letpankhwet, Kanthar, Htanpehla, Innmahto, Ywathit) can be injected in emergency by Daw Khin San Tint who is a midwife at RHC (rural health center) in Kuamohn village and Daw Kyawt Tin, AMW (auxiliary midwife) in Chaung Sone village and victims can be sent to Ye U hospital in time. So we all communities are very delighted and grateful to CAD.
I have a thrilling great good news of happiness to share you from the impact of our project that Czech Embassy funded us this year (March – December 2016).
A person reported CAD that on 28 July 2016, two young man whose name are (Mg Zaw Win Thun, age 23 year) and Ye Naing Myo (28 age) from Ywa Pale village was bitten by poisonous viper snake at farm. Then they were rushed to our antivenom banking center where they were given injection of the vaccines. Then they are now fully recovered without going to general hospital. Second incident is that on 1 August 2016, Ms. Zi Wa Myint (age. 31) from Punnaa village, was bitten by a viper when she went to farm on the way. Then she was brought to our vaccine center where she was given anti-venom vaccines and she is now in Ye Oo general hospital. The third incident is that a woman, bitten by a viper snake, was saved from death by our medicine in Oak Pho village. Her name is Ms. Khine Mar Win, daughter of U Tin Shwe and of Daw Tin Yee. She was bitten by a viper on 15 July at about 8:30 a.m. and was carried to our medicine bank where two bottles of medicines were injected to her by a health assistant whose name is U Tan Ngwe. After receiving the first aid of our medicine, she was transferred to another 2 township hospital where another 12 numbers of venom were injected to her again and finally to Mandalay hospital to check her kidney if it is affected by the poison of the snake.