We Receive Funding from European Union Humanitarian Aid for Co-Learns Project
It is our great pleasure to release this information that CAD with its other (3) partners received funding from ECHO for implementation of Co-Learns Project in Sagaing and Magwe Regions for from 2022 to 2025.
Through this project, the Consortium members will provide education services to primary school-aged children affected by the conflict in 4 districts -Gangaw, Tilin, Myaung and Myinmu) located in Magway and Sagaing Regions.
The action will be led by Cesvi with Helvetas in Consortium. The field activities are implemented by 2 implementing partners: CAD (National NGO), which will cover 2 townships located in North-West Magway Region, and SNM (National NGO) that will cover 2 townships in Sagaing Region. This proposal is based on the agencies' combined experiences, thematic and contextual knowledge, and on a need assessment, recently conducted, that shows an alarming exclusion of school-aged children from formal education due to the schools' closure, compounded by widespread protection concerns. To respond to the identified needs, the action will ensure that primary school-aged boys and girls currently out of school will access non-formal education opportunities promoted at community level.
CAD provides humanitarian assistances to IDPs in Chin State
Community Agency for Rural Development (CAD) has speeded up humanitarian assistance to people of Thang Tlang City, who were finally run by intensive fighting between the Myanmar military and local militia known Chinland Defense Forces (CDF) since 20 September 2021.
Chin, a rural and mountainous state in Myanmar's northwest which is among the country's least developed, has become among the fiercest battlegrounds of resistance, along with Sagaing region to its north.
About 10,000 people normally live in Thantlang in Chin State, but most had left to seek shelter in surrounding areas including in India, a community leader said.
In India's neighboring state of Mizoram, the head of a civil society group said 5,500 people from Myanmar had arrived in just two districts over the past week, as they scrambled to escape a military crackdown.Myanmar has been in turmoil since a government led by pro-democracy veteran Aung San Suu Kyi was toppled on February 1, sparking nationwide anger, strikes, protests, and the emergence of anti-junta militia.
During fighting last weekend in Thantlang, about 20 homes were set ablaze, with photographs on social media showing buildings engulfed in flames.
Soldiers shot dead a Christian pastor who tried to extinguish a blaze, the Myanmar Now news portal reported, although state media disputed the report.
The Global New Light of Myanmar said the pastor's death was being investigated and that soldiers had been ambushed by about 100 "terrorists" and both sides exchanged fire.
Salai Thang, a community leader, said four civilians had been killed and 15 wounded in several weeks of conflict with the military also using air strikes after an army base was overrun.
The Chin Defense Force, a militia opposed to the military, said in a statement 30 soldiers had been killed.
Reuters could not independently confirm any of the claims and a military spokesman did not answer calls seeking comment.
A relative of the dead pastor told Reuters that only a handful of households remained in Thantlang, including about 20 children in an orphanage.
"The murder of a Baptist minister and bombing of homes in Thantlang, Chin State are the latest examples of the living hell being delivered daily by junta forces against the people of Myanmar," Thomas Andrews, UN special rapporteur on human rights in Myanmar, said in a message on Twitter.
There has been an upsurge in bloodshed in areas like Chin State after the National Unity Government, a shadow underground administration set up by opponents of the military, declared an uprising on September 7 and called for newly formed militia to target the junta.
The attempts by the People's Defense Forces to take on the well-equipped army have often resulted in civilians being caught in crossfire and forced to flee.
Community leader Salai Thang said he was deeply concerned about the displaced finding food and shelter.
In Mizoram, arrivals from Myanmar in the past week had mostly crossed the Tiau river by boat, the head of the Young Mizo Association, a civil society group, said by telephone.
"We have set up temporary shelters using tins (tin roofs) and tarpaulins to house these refugees purely on humanitarian grounds," said Lalnuntluanga, who uses one name.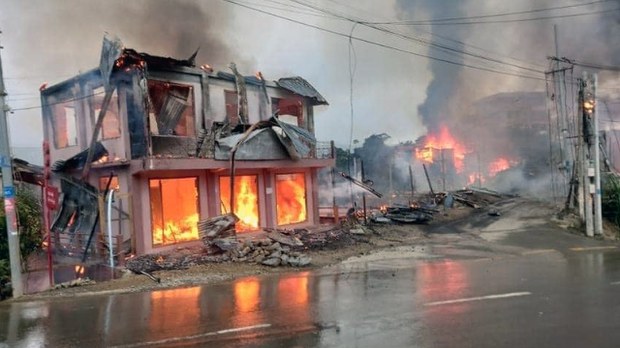 CAD Stops All Projects Implementation in 2021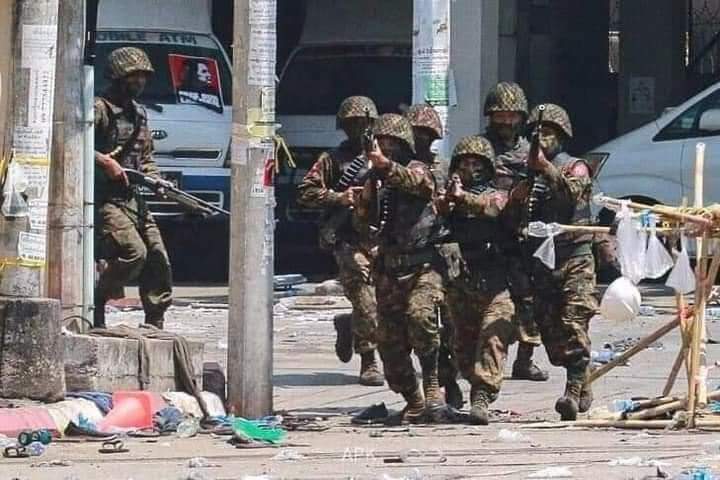 As Myanmar Military ousted the elected democratic government of National League for Democracy on 1 February 2021 and the whole country is under the State Emergency of Military rule led by Senior General Min Aung Hlaing under the de facto name of State Administration Council, we are under curfew and martial law. We witnessed our staff lives are highly at risk and banking system are almost dysfunctional in Myanmar too. Therefore, CAD, after having well discussion with our donors, decided to stop our projects implementation in 2021.
CAD's Covid-19 Response in Chin State, Myanmar
CAD is joining Myanmar government in fighting against Covid-19 Pandemic virus since May 20, 2020.  As CAD is the first actor of Chin NGO in Chin state, the poorest region of Myanmar, since 2004, it is responding Covid-19 virus fight against communities and our government.
Therefore, CAD had spent its available resources of US$ 12,000 (local currency Ks. 15,000,000) to reduce, to contain the spread of Covid-19 pandemic in our project areas by distributing IEC posters (2000 copies) to 2000 families with tri-languages for the most effective education of Virus awareness by communities, distributing 10000 numbers of soaps to our people, distributing 3000 numbers of special tailored masks to 3000 people, distributing PPEs to village based health volunteers, helping community quarantine centers, providing water resources to the needy and rural health care centers and finally medicines to villagers of locked-downed communities in the central part of Chin state.
CAD had assisted 22 villages of reaching out about 10,000 people in Hakha, Thang tlang and Matupi townships of Chin state, Myanmar. Chin is the poorest state in Myanmar and it has a low population density with limited infrastructure development. This has contributed to a lack of agricultural development and market integration, along with significant out-migration as a result of limited opportunities to diversify livelihoods.
Since 2004, CAD has invested more than US$ 1 million in improving living standard of communities, transforming their agricultural system, building car road connectivity, improving their drinking water system, educating their health awareness, reducing community harm reduction by building bridges and roads, making education available in their communities by building schools and by supporting their village led-nurseries and empowering illiterate youth by opening higher vocational training program in Chin state.
The Coronavirus outbreak actually began in Wuhan, a city in the Hubei province of China. Reports of the first COVID-19 cases started in December 2019. World Health Organization named the virus as Covid-19 and it declared it as Pandemic in March 11, 2020. Corona-viruses are common in certain species of animals, such as cattle and camels. Although the transmission of coronaviruses from animals to humans is rare, this new strain likely came from bats, though one study suggests pangolins may be the origin.
The World Health Organization (WHO) has officially declared the outbreak of COVID-19 a pandemic, after the disease caused by the new coronavirus spread to more than 100 countries and led to tens of thousands of cases within a few months. "We are deeply concerned both by the alarming levels of spread and severity [of COVID-19], and by the alarming levels of inaction," Tedros Adhanom Ghebreyesus, the director-general of WHO, said at a news conference on today (March 11). "We have therefore made the assessment that COVID-19 can be characterized as a pandemic." This is the first time WHO has declared a pandemic over a coronavirus, Ghebreyesus said. He noted that the number of COVID-19 cases reported outside China has soared in recent days, rising 13-fold in the past two weeks. However, it remains unclear exactly how the virus first spread to humans. Some reports trace the earliest cases back to a seafood and animal market in Wuhan. It may have been from here that SARS-CoV-2 started to spread to humans.